Regular price
$36.99 USD
Sale price
$36.99 USD
Unit price
per
Sale
Sold out
ZERO WASTE ECO-FRIENDLY MENSTRUAL CUP. The Genial Cup is made of the highest quality TPE material and is produced in Europe in an FDA accredited facility. The cup is FDA registered and Vegetarian Society approved – VEGAN. Durable, sustsinable, reusable and recyclable Genial Cup provide complete protection. Can be worn for up to 12 hours. Suitable for use during a variety of activities including travel, camping, yoga, swimming, dancing & sports. The cup will last you many years.

THE BRAND YOU CAN TRUST.  Designed by a woman for women everywhere - Gentle Day brand is on a mission to change how women feel about their period by providing innovative menstrual hygiene products, and empowering women and girls in need.
"I absolutely love it! Super soft and easy to insert. Honestly, I think this is the softest menstrual cup I have ever tried, no pressure, no discomfort molded right into my walls. Very easy to remove in comparison to other cups. ... It's pink! No stains!" - @hypegirls
MATERIAL

Medical grade 100% thermoplastic elastomer (TPE) produced in Germany.

Tested and approved as hypoallergenic and 'non-irritant' by external labs.

Scientific studies have determined that elastomer is non-toxic, hypoallergenic and won't irritate your skin.

This material is suitable for direct contact with blood and is widely used in the production of medical devices that have direct contact with the human body.

It does not contain any phthalates, heavy metals, lead, PVC or latex and is soft, durable and tear resistant.

Our rigorous Total Quality Management System based on 21 CFR 820 – QSR Quality System Regulation from the US FDA (Food and Drug Administration) guarantees the quality of the GENIAL cup.
PRODUCT DETAILS

100% Medical Grade Recyclable TPE, heavy metals, BPA, Latex and Chemical Free
Hypoallergenic and Biocompatible
12 Hour Capacity (3-4 tampons worth)
Easiest to open, leak-free shape
Lasts up to 5 years
Easy to clean rounded edges, tapered holes and solid stem
Slip-resistant shape
Most comfortable sensation
Imperial Purple colored (food grade) cup won't show stains
Made in the EU in ISO 9001 certified and FDA accredited facility
FDA compliant and registered
VEGAN certified – approved by Vegetarian Society.
NOTE: the mark by the stem is not a damage, this is extrusion mark and it doesn't affect the quality of the cup.
SIZES

GENIAL Cup comes in 3 sizes

S The smallest size cup. It holds up to 3 regular tampons. Good for teens and those who need smaller size.

Capacity 17 ml / oz 0.574
Diameter 40 mm / 1.57"
Total Length 62 mm / 2.44"
Stem Length 12 mm / 0.47"

M Our most popular size. Holds up to 5 regular tampons. For moderate flow.

Capacity 25 ml / oz 0.845
Diameter 43 mm / 1.69"
Total Length 67 mm / 2.63"
Stem Length 12 mm / 0.47"

L Holds up to 5 regular tampons. Good for heavy flow, for those who have been diagnosed with a weaker pelvic floor.

Capacity 30 ml / oz 1.014
Diameter 46 mm / 1.81"
Total Length 66 mm / 2.6"
Stem Length 12 mm / 0.47"
TO USE

The menstrual cup is a natural alternative to tampons and pads. Its purpose is to collect the flow of your period, and its application is similar to that of a tampon.

Please read the instruction included in the box how to insert and remove the cup. Keep the instructions since learning to use your cup can take up to a couple of cycles. If you have any questions, we are here to help.

Here are the basic steps:

Fold the cup and insert it into the vagina.
Go about your daily activities, including sports, swimming, and sleeping, as the cup is designed to be worn for up to 12 hours.
When it's time to remove the cup, empty its contents, rinse it, and then reinsert again.

For more detailed information, please refer to our "how to use" guide.
FAQ

How long will it last?

With proper care, your menstrual cup can last for years. However, it's important to replace your cup if it becomes sticky or develops cracks.

Can a teen use a cup?

Yes, teenagers can use a menstrual cup. However, it's important for them to feel comfortable with their bodies and have a good understanding of their menstrual cycle before trying a cup. It may be helpful for teens to discuss cup usage with a trusted adult or healthcare provider for guidance and support.

How to clean a cup in public bathroom?

All you need is a bottle of water, so you can rinse the cup and wash your hands, also our wipes are gret help, or ypuo can wipe the cup with toilet paper, and rince it once the water is available.

Is there any leaks with a cup?

Usually, if a leak occurs, it is likely due to using the wrong cup size or improper insertion. Proper placement and a secure fit against the vaginal walls are essential for preventing leaks. If the cup fails to open inside the vagina, it may result in leakage. To help you adjust to using a cup, we recommend using liners or period panties during the first month. This will provide added protection and give you time to become accustomed to using the cup.

Can I use it with an IUD?

Genial Cup is classified as a soft cup, making it safe to use with an IUD. Its flexibility minimizes the risk of accidentally displacing or dislodging the IUD during cup removal. However, if you have any concerns or specific questions regarding the compatibility of Genial Cup with your IUD, we strongly recommend consulting with your gynecologist.

Can I use the cup after giving birth?

Yes, you can use a menstrual cup after giving birth. However, it is important to wait until your postpartum bleeding has stopped. The cervix and vaginal muscles need time to heal after childbirth, so it's recommended to consult with your healthcare provider firs.

Please contact us if you have any question about the cup.
SHIPPING

Shipped throughout the United States.

Free shipping -- orders value at checkout over $45.00 (after discounts)

$1.90, on orders up to $2.00

$4.90, on orders from $2.01 up to $17.90 

$9.95, on orders over $17.91 up to $45

More about shipping and returns read here
View full details
HYPOALLERGENIC AND SAFE

TPE cup is safe for those with silicone allergies, it's been tested as hypoallergenic 'non-irritant' by external labs. No harmful plasticizers are included that could cause hormonal changes. Free of BPA, phthalates, latex, heavy metals.

ZERO WASTE ECO-FRIENDLY MENSTRUAL CUP

Made of medical-grade TPE (thermoplastic elastomer) which is durable, sustainable and recyclable material.  Washable and reusable.

EASY TO USE AND TO CLEAN

4 conical shape suction holes patented system: for easy seal break with minimal mess removal; easy to clean. The stem is stable and not hollow by the base, so it will not bend to make removal messy. Dyed with food-grade coloring which won't show stains.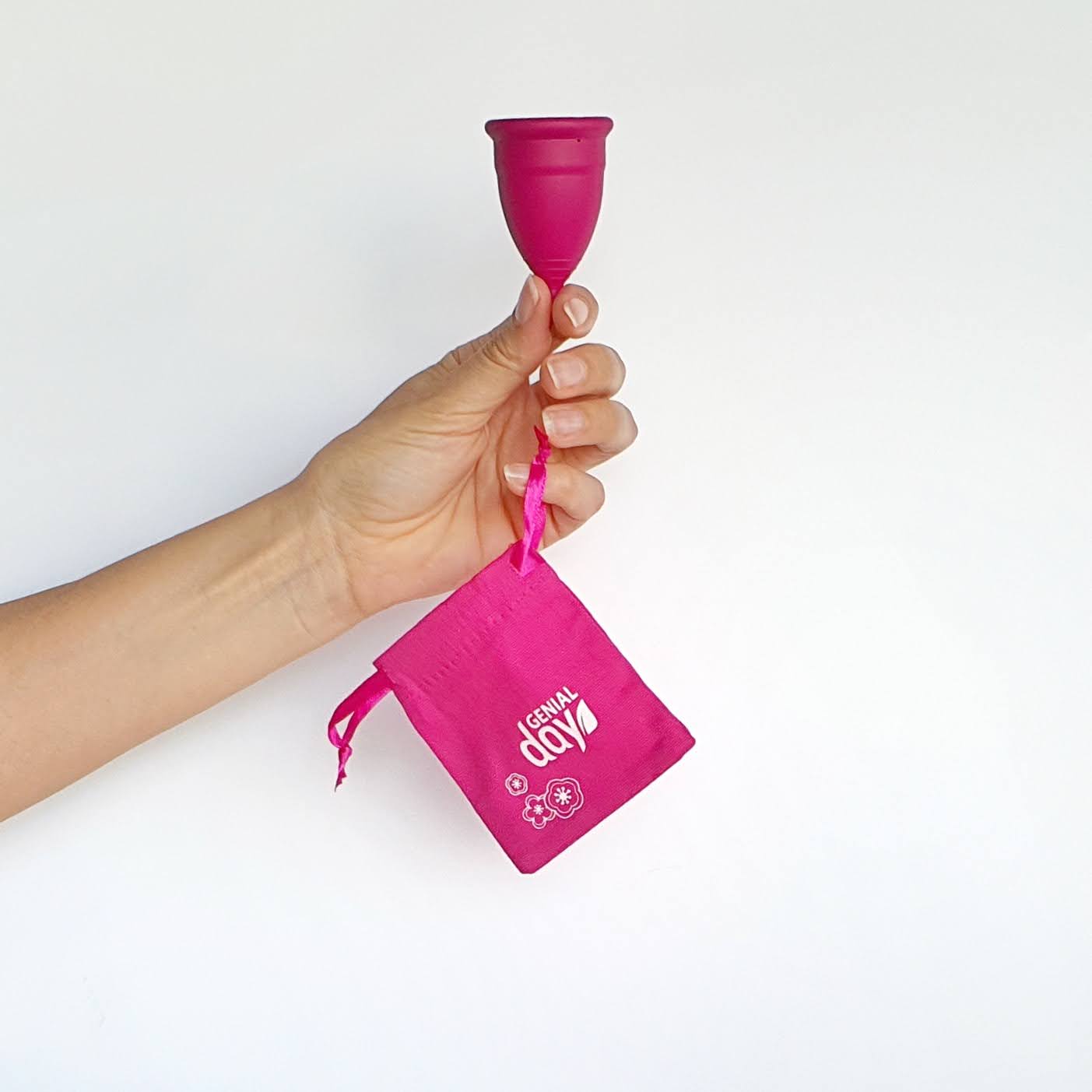 Forget about your leaks for up to 12 hours
Genial Day is smooth, flexible and medium-soft reusable menstrual cup made of hypoallergic, medical-grade, recyclable TPE.
Genial Day cup collects your menstrual flow rather than absorbing it, allowing for a period that is completely leak-free, odor-free with zero irritation.
The superior alternative to pads and tampons, Genial Day cup accommodates your heaviest to lightest flow for up to 12 hours, forget those frequent visits to the bathroom. It gives you total freedom during your period even during sports or travel.
If you like cups this one is the best!
I've tried around 11 different cups. This was the 11th and I stopped trying after this one. It is the best one. No allergies for me from the silicone. And its said to last a very long time. Great cup. Can't even compare to others.
Worth for the price
At first it seems expensive but I've been using this cup for about 2 years. The color has not faded the flexability is still the same it is very durable. And as indicated it lasts 5 years so yeah thats a long time for one product.
Better than other cups.
The most comfortable cup out there. This cup is very flexible and its made from medical grade tpe and thats a huge plus! I have tried 6 different brand cups and this is by far the best for me!
Disappointed with functionality
I really wanted to love it and was excited to switch to TPE, as I've been using a silicone menstrual cup for about 10 years now. This cup is so flimsy that I cannot get it to open correctly once inside no matter how I fold it, how much I twist it or try to open it. Most cups pop open easily, but even once I give up and leave it in, it doesn't open on its own, because it comes out creased and deformed. I'm disappointed that I can't get it to work for me, as everyone else is so happy with how thin and flexible it is.
Sorry to hear the Genial Cup didn't work for you. Our cups are considered medium soft, probably that is why it feels flimsy for you, especially if you got used to the stiff silicone cup. The firmer the cup, the easier it expands in the vagina because it has more pressure, so women with very strong vaginal wall muscles should choose a stiffer cup. Once inserted the TPE cup softens and adapts to the shape of vagina, resulting less pressure on vaginal walls, that's why you feel that it changes it's shape. Some women say they feel more comfortable with the TPE cup because of that, less urge to urinate. Genial Cup is hypoallergenic and have no traces of any chemicals, different from silicone cups. So I am really sorry it didn't worked out for you.
Easy to use and comfortable
I had little to no problem getting it positioned right the very first time. So happy with this product