Regular price
$6.99 USD
Sale price
$5.94 USD
Unit price
per
Sale
Sold out
BE YOUR OWN BOSS

Build your own period kit with the products you need at your needed frequency. (Recommended 4months)
Why should I subscribe?

The best thing with our subscription kit is that you will get a 15% discount for your starting month and all upcoming orders.

You also get the best products your body needs!
Control your subscription

Change the frequency, change orders, skip orders, pause or cancel your subscription.

All you have to do is login and press "Manage Subscription" and all the options will be available to you.
Is there a limit?

No limit. You just only receive our Period Kit Box when you make a subscription of 9 total packs pads or liners.
View full details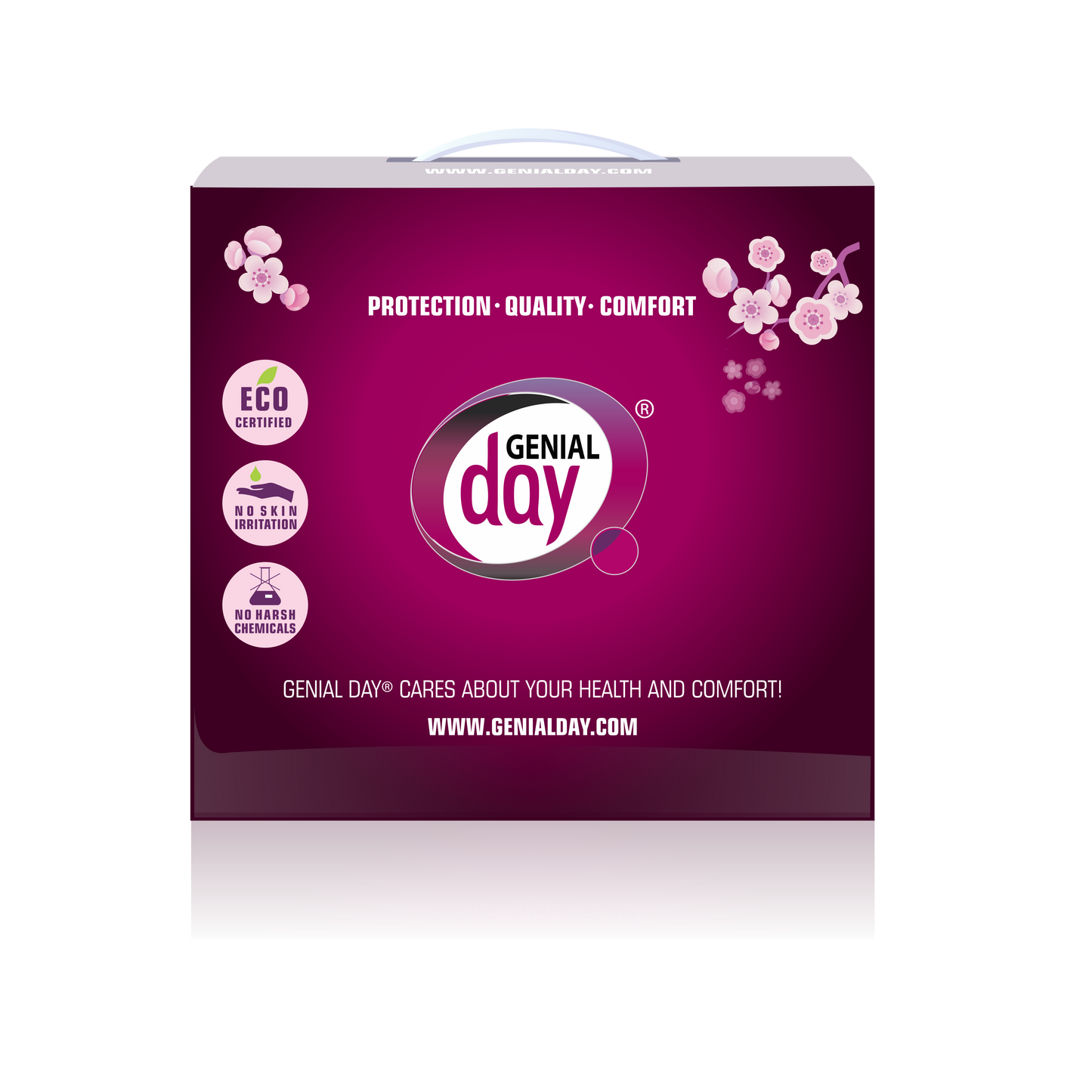 ELIMINATE DISCOMFORT

Patented and revolutionary FAR-IR ANION Strip™ – natural protection against bacteria & odor. May help eliminate period discomfort.

MAXIMUM PROTECTION

The pads are highly absorbent with biodegradable super absorbent core, and wings. SUPERIOR ABSORBENCY - up to 200 ml / 7.05 oz.

NO SKIN IRRITATION

Free of toxic chemicals and reproductive system disruptors, skin friendly pH levels. OEKO-TEX®, Made for Health® and VEGAN certified. Dermatologically tested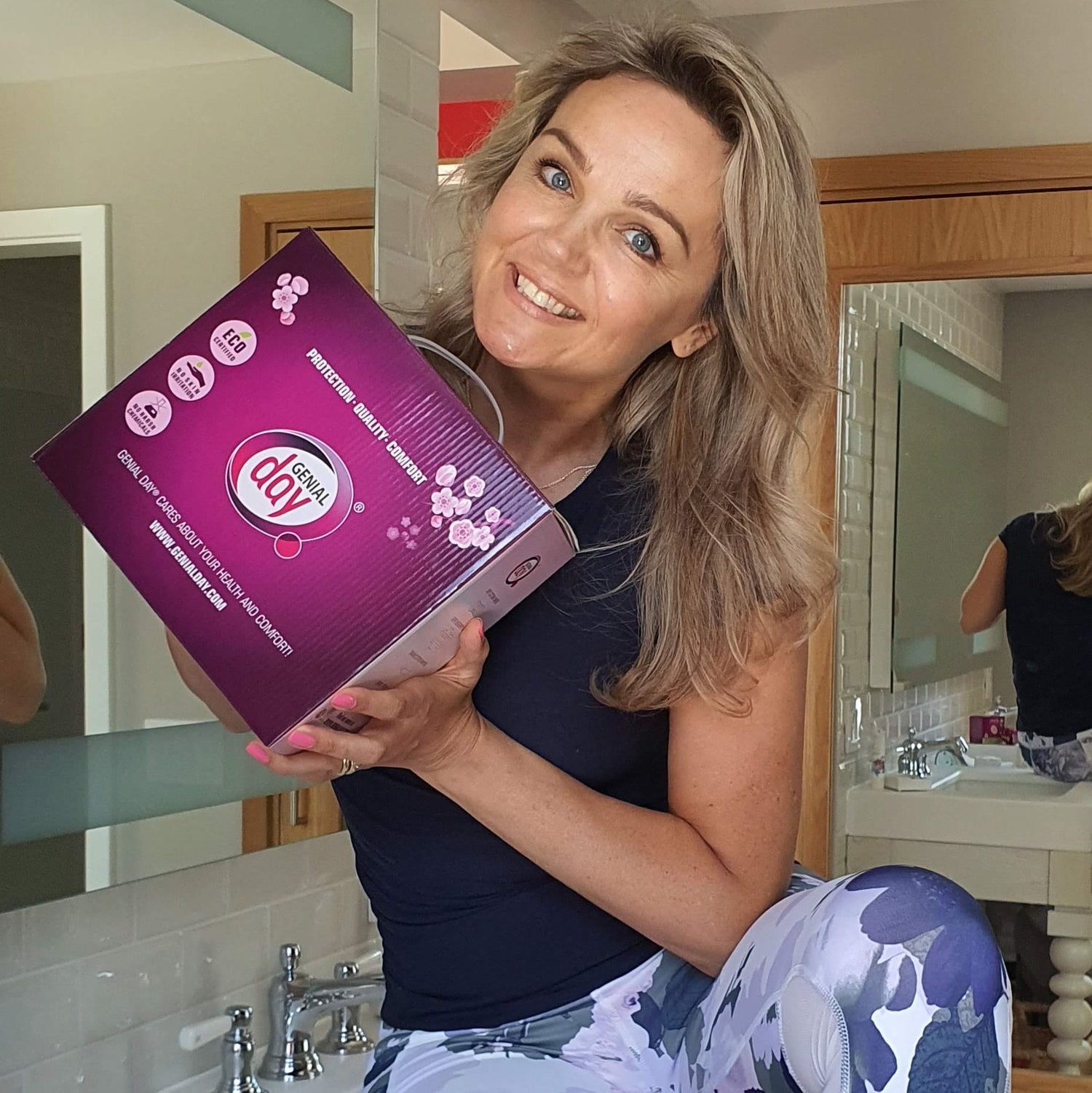 Best for your daily protection
Concerned about your health and safety, but still want to feel comfortable and fresh? GENIAL DAY Eco-certified pads were designed with YOU in mind - to help alleviate the common problems associated with PMS and vaginal infections. They are the safest, most absorbent, comfortable and eco-friendly pads out there! The new anion strip technology with tourmaline allows for fragrance-free odor control which also eliminates toxic chemicals. GENIAL DAY eco-certified pads are also clinically tested for bio-compatibility, which shows that they won't cause irritations.
Size is important
We got you covered. Feel confident and stay protected from leaks with our amazing options of different sizes and absorbency levels.

Size 3 on days when your flow is light.
Size 4 is best for daytime use. Up to 8 hours of protection.
Size 5 is best for nighttime use, with extra coverage and extra wings in the back. Up to 10 hours of leak protection. 
Size 6 is best for extremely heavy or postpartum flow, with extra coverage and extra wings in the back. Up to 10 hours of leak protection. 
Build what you need
Do you have a heavy flow?
Add more Extra Heavy flow Pads.
Do you have a light flow? Add less pads.
If you subscribe with a total of 9 packs we will send the products packed nicley inside our Period Kit Box.
BUILD NOW
Revolutionary
This are unbelievably good.
Good but can do better
Good. It's not the item I have an issue with. I would like an email notification that my order is GOING to be shipped PRIOR to it being shipped so I can edit the box or even skip an order if necessary.
it's good
I love it it's an amazing product u you o use, super clean, no dirty ingredients, it's overall really good for your skin truly
Person who has used the pads
These pads are very good and they are comfortable to wear. I don't have leaks anymore since I switched to them from always infinity.
Absorbent
I've been using these natural pads for a year. I love the absorbency of the pads I'm very heavy my 1st 2 days & I needed a good natural pad so I was definitely was pleasantly surprised how great they we're. My only gripe is the adhesive be a little better so the pad stays in place while you sleep but other than that a great product indeed.