Regular price
$3.49 USD
Sale price
$3.49 USD
Unit price
per
Sale
Sold out
10 pc/pack
Loved by European women, now available in the U.S. You're going to love our wipes! Made from 'eco-friendly' 100% biodegradable bamboo cloth. Soft and gentle, eco-certified, unscented bamboo wet wipes are perfect for cleaning intimate parts, hands or face. Suitable for sensitive skin. Water-based formula cleans skin without soap and does not leave a sticky residue.
+ ALCOHOL-FREE - PARABEN-FREE- SOAP-FREE 
+ WITH ALOE VERA
+ BIODEGRADABLE
+ PH NEUTRAL
INGREDIENTS:
Tested for over 200 harmful chemicals. Free of dyes, perfumes, chlorine bleach, heavy-metals.
Certified OEKO-TEX®, MADE FOR HEALTH®, VEGAN (Vegetarian Society).
Ingredients:
Aqua, aloe barbadensis leaf juice, glycerin, citric acid, polyhexamethylene biguanide hydrochloride, glycine, benzalkonium chloride.
Manufactured in China ISO 9001, GMPc, GMP certified facility
Manufactured in ISO 9001, GMPc, GMP certified facility
All product and it's ingredients were being tested for harmful substances, eco-certified by Oeko-Tex® 100
Made for Health® certified - tested for biocompatibility and skin irritation
VEGAN - Vegetarian Society approved
Leaping Bunny approved
WHY BAMBOO?
Bamboo is 100% biodegradable – the wipes break down naturally (when out of the packet) with no negative impact on the environment.
Bamboo is organically grown and is naturally pest resistant, making it 100% pesticide free (cotton is only 5% of the world's crops but contributes to 25% of the world's pesticides.)
Bamboo needs very little to no water to grow and uses less space than cotton. (Cotton requires a lot of water and land to grow.)
Bamboo inhales CO2 and exhales O2 into the atmosphere – generating more oxygen than trees.
Bamboo is harvested from established plantations, not from forests – so it does not destroy animal habitats such as the orangutan or panda.
This type of bamboo is not the type pandas eat, so it is very 'panda-friendly'!
Bamboo is harvested without using harsh chemicals. No bleach or chlorine is used.
 ADDITIONAL FACTS:
Bamboo is also 60% more absorbent than cotton.
Bamboo is naturally anti-bacterial.
Share
View full details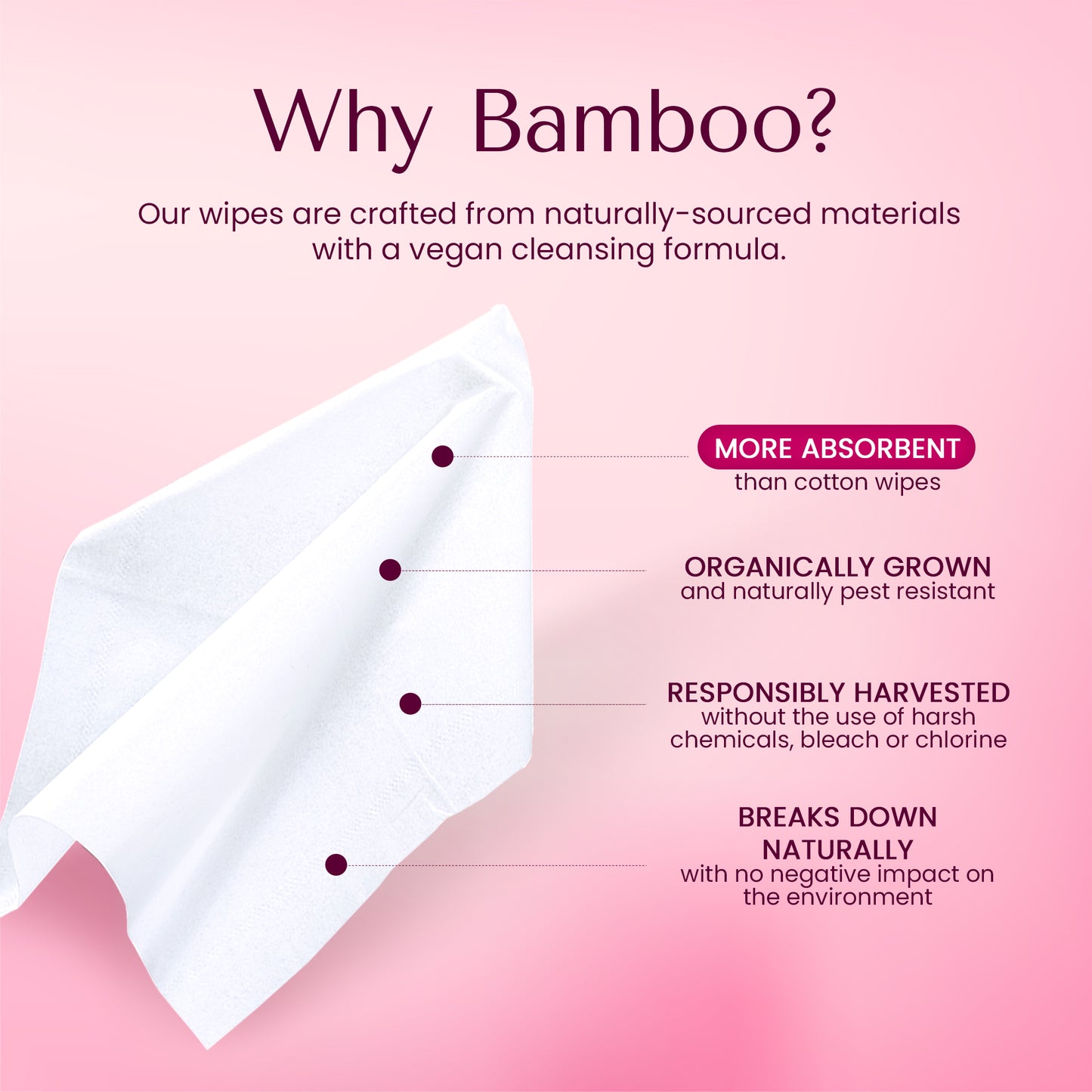 Always happy with the turn out. I'm thinking of ordering some period underwear next
bamboo wet wipes
These are very handy to have at home or on the go. It's perfect when you need to feel clean but have limited means(time/location) to do so. I love the pure ingredients that don't irritate my body.
Perfect water wipe for when you're on the move. Great size to fit discreetly in your bag or makeup case. No weird residue or chemical smell.
Good product
I love that they are fragrance free and they are not sticky like other wipes.
I can recommend these wipes
Wipes that everyone would love! No chemicals/no soap/ no irritations. Great for traveling and great for normal home use!