Regular price
$62.90 USD
Sale price
$62.90 USD
Unit price
per
Sale
Sold out
Even it's Regular Flow Pads, but nothing "regular" about it. It's organic, with FAR-IR Anion Strip and it absorbs up to 10 x more than any other "regular flow" pad in the market. 
Concerned about your health and safety, but still want to be comfortable, fresh and hygienic? Genial Day Eco-certified pads were designed with YOU in mind - to help alleviate the common problems associated with PMS and vaginal infections. They are the most healthy, safe, absorbent, comfortable and Eco-friendly pads out there! The new anion strip technology with tourmaline allows for fragrance-free odor control which also eliminates toxic chemicals. The Genial Day functional Eco-certified pads are also clinically tested for bio-compatibility so they won't cause irritation. Join the period revolution of 1 million women - and detox your period today with Genial Day!
+ pH friendly to skin, toxin-free, fragrance-free, non-chlorine bleached.
+ "Stay dry" cover sheet: so that you won't feel wet.
+ Yellow ANION Strip with Tourmaline for protection against skin irritation & odor.
+ With air-laid cotton layer and nontoxic, biodegradable, super-absorbent material made in Japan for superior absorbency: absorbs up to 122 g (4.30 OZ), according to the Rothwell method test (ISO 11948-1).
+ Breathable back layer to eliminate heat and humidity.
+ Leakage control channels, 3D side walls to prevent unpleasant accidents.
+ With 2 wings to stabilize the pad.
+ Food grade adhesive strips to stabilize the pad.
+ Individually sealed wrapper for safe carrying in your purse.
This product is not intended to diagnose, treat, cure or prevent any disease.
Share
View full details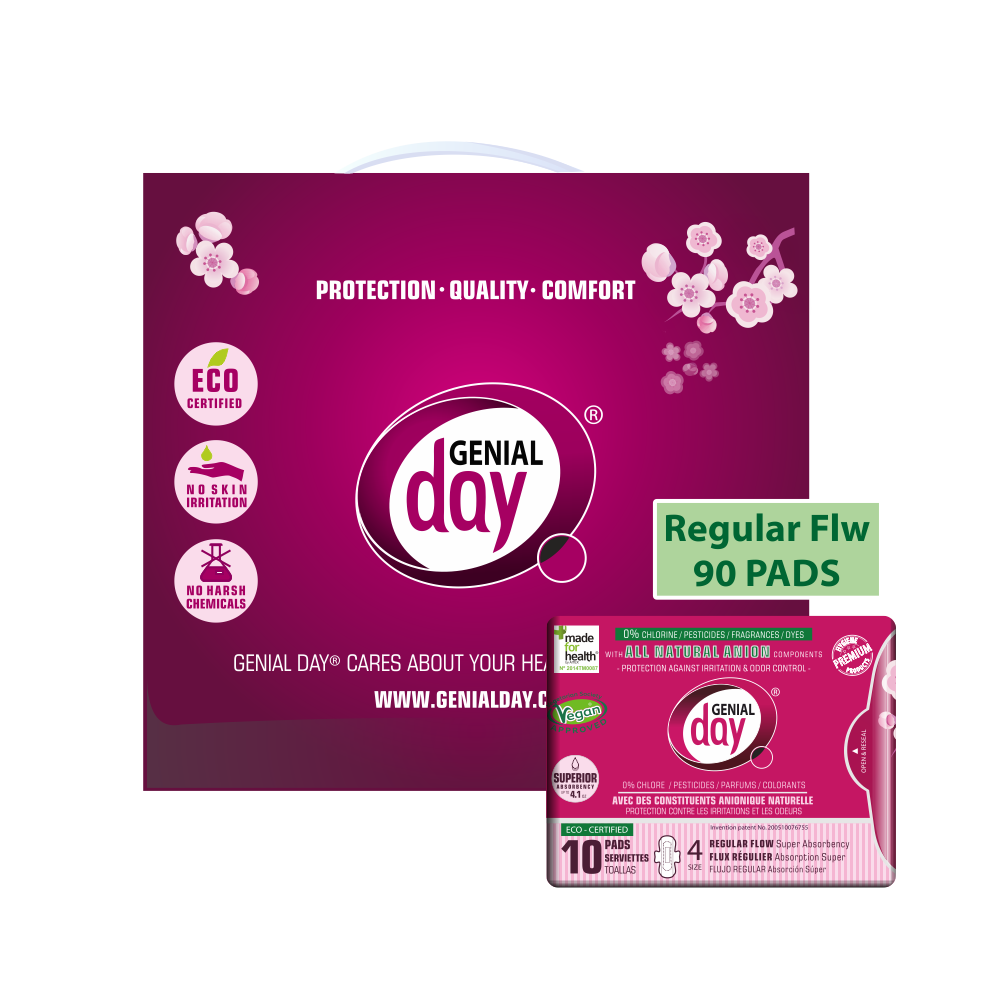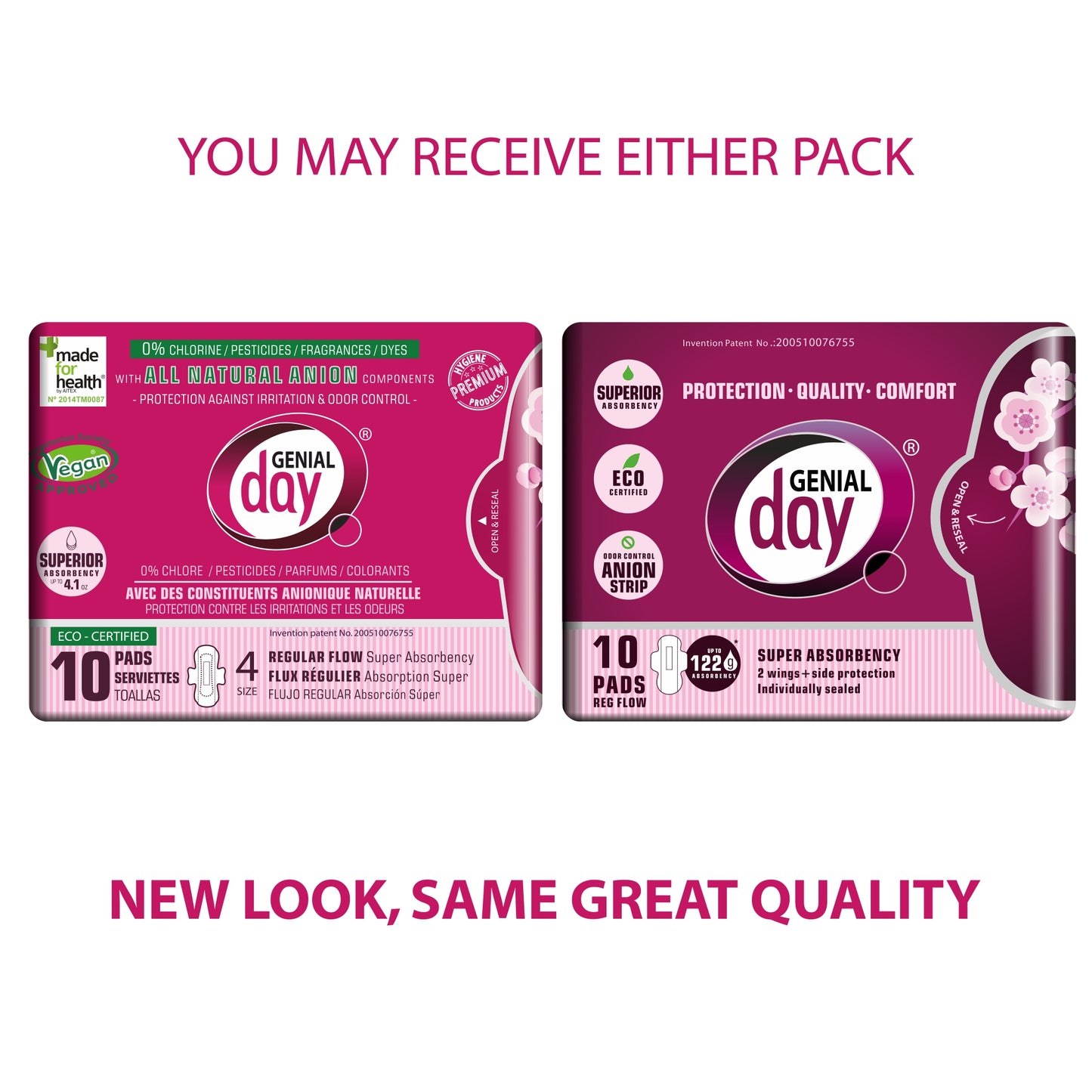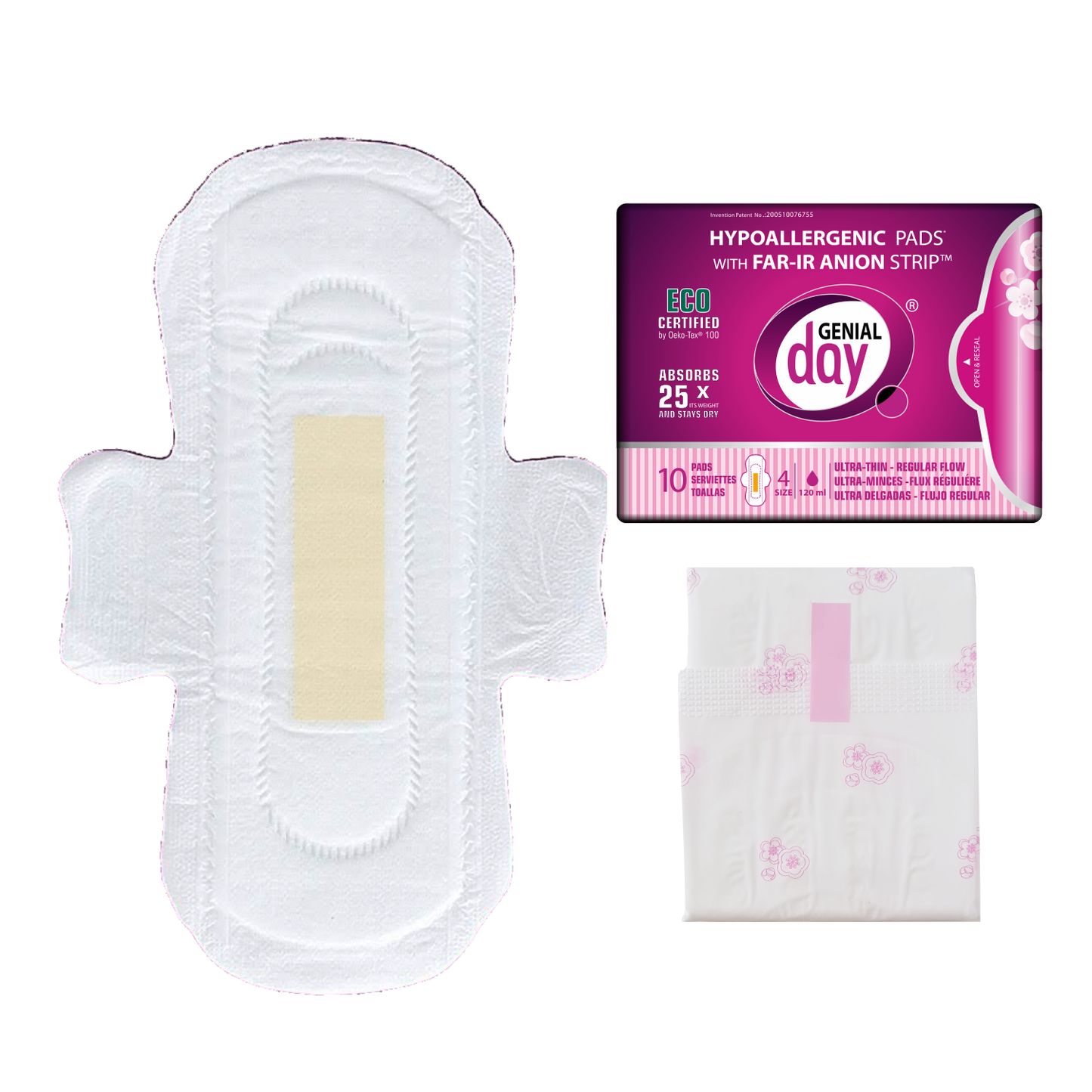 So thin!
I love these menstrual pads! They are super absorbent and are so comfortable, you don't even know you are wearing one. Super excited that they are eco friendly and made with safe material. They do not irritate your skin. Highly recommend.
Great for everyone!!!
am AMAZED. WOW this is where science intersects everyday problems. The pads eliminated 100% of the normal odor that you get from having your period. They are also super light and extremely absorbant! 200/100!!!
I don't have any irritations anymore.
I love that these pads are eco friendly. They are really absorbent and won't cause any irritation. Will recommend to all my female friends. Will definitely be making the switch.
The pads are great!
These pads worked out great. Super comfortable and easy to use. Odorless so that is a plus with me and easy to dispose of. No leaks or accidents. They have everything that a good menstrual pad should have minus the toxic chemicals!!
Helped me daily.
I loved using these pads for my incontinence. They help me daily and help me confident about not having any leaks during the day while I am out or at work!