Regular price
$6.99 USD
Sale price
$6.99 USD
Unit price
per
Sale
Sold out
Even if they're Regular Flow Pads there's nothing "regular" about them - they have high absorbency, natural protection, stay dry and they're super thin! It's organic, with FAR-IR Anion Strip and it absorbs up to 10 x more than any other "regular flow" pad in the market. 
Length: 240 mm / 9.45 in
Absorbency: 120 ml / 4.3 oz
ULTIMATE COMFORT – the pads are so thin and breathable that you might even forget you are on your period. Ventilated back layer eliminates heat and humidity; it is permeable to air but not liquid.
Join the period revolution along with 1 million other women and detox your period today with GENIAL DAY!
This product is not intended to diagnose, treat, cure or prevent any disease.
FEATURES

✔ Hypoallergenic, pH balanced, non-chlorine bleached, toxin-free

✔ Maximum comfort and protection from leaks

✔ Fragrance-free all natural odor protection

✔ Quick-dry top layer to keep your skin dry

✔ FAR-IR ANION Strip™ for maximum hygiene and skin protection

✔ Breathable, ultra thin and flexible

✔ Non-toxic, super-absorbent polymer layer

✔ Eco-certified and VEGAN
MATERIALS

Tested for over 200 harmful chemicals. Free of dyes, perfumes, chlorine bleach, and heavy metals.
Certified OEKO-TEX®, MADE FOR HEALTH®, VEGAN (Vegetarian Society).
Materials:
• hydrophobic non-woven material (polypropylene) - the pad remains dry so it does not irritate your skin, you will feel dry and safe;
• patented yellowish FAR-IR ANION anion strip - natural protection with mineral tourmaline and silver ions, which stop bad odor and bacterial growth, and reduce discomfort during menstruation;
• cellulose layer with cotton - quickly absorbs blood and distributes it by directing it to the next layer;
• non-toxic absorbent Japanese polymer - absorbs several hundred times its weight;
• plastic with calcium carbonate for air permeability;
• non-toxic glue - sticks well and holds the pad in place.
Patented. Designed in Lithuania, manufactured in China ISO 9001, ISO 14001 certified facility. FDA registered in the USA.
RECOMMENDED

Regular flow | medium incontinence | sensitive skin | frequent infections | painful menstruation
TO USE

To use: Peel off the plastic wrapper, center the pad on your underwear with the wider part at the back, press it down, and fold the wings underneath. To dispose of: remove the pad from your underwear, wrap it in toilet paper or a pad wrapper, and put it in a waste bin.
SHIPPING

Shipped throughout the United States.

Free shipping -- orders value at checkout over $45.00 (after discounts)

$1.90, on orders up to $2.00

$4.90, on orders from $2.01 up to $17.90 

$9.95, on orders over $17.91 up to $45

More about shipping and returns read here
Share
View full details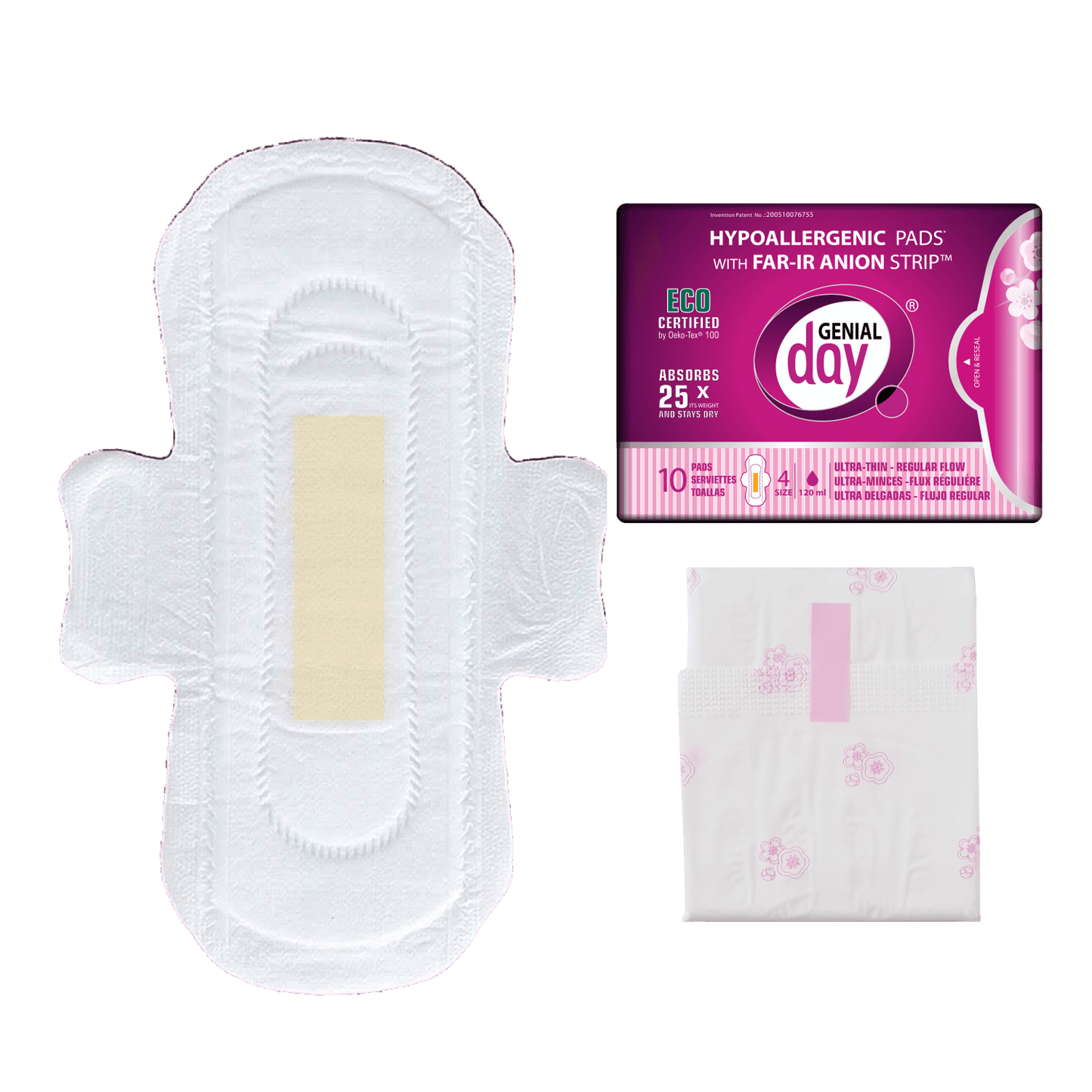 ELIMINATE DISCOMFORT

Patented and revolutionary FAR-IR ANION Strip™ – natural protection against bacteria & odor. May help eliminate period discomfort.

Maximum Protection

The pads are highly absorbent with biodegradable super absorbent core, and wings (superior absorbency - up to 122 ml / 4.3 oz).

NO SKIN IRRITATION

Free of toxic chemicals and reproductive system disruptors, skin friendly pH levels. OEKO-TEX®, Made for Health® and VEGAN certified. Dermatologically tested.
Patented technology
Concerned about your health and safety, but still want to feel comfortable and fresh? GENIAL DAY Eco-certified pads were designed with YOU in mind - to help alleviate the common problems associated with PMS and vaginal infections. They are the safest, most absorbent, comfortable and eco-friendly pads out there! The new anion strip technology with tourmaline allows for fragrance-free odor control which also eliminates toxic chemicals. GENIAL DAY eco-certified pads are also clinically tested for bio-compatibility, which shows that they won't cause irritations.
Size is important
We got you covered. Feel confident and stay protected from leaks with our amazing options of different sizes and absorbency levels.

Size 3 on days when your flow is light.
Size 4 is best for daytime use. Up to 8 hours of protection.
Size 5 is best for nighttime use, with extra coverage and extra wings in the back. Up to 10 hours of leak protection. 
Size 6 is best for extremely heavy or postpartum flow, with extra coverage and extra wings in the back. Up to 10 hours of leak protection. 
ECO-certified Regular Flow Pads with Anion Strip
Love these!
I love these pads and use them every month faithfully. I like that they are discreet, and the anion strip seriously helps with the smell from your cycle. I wish that these were out when I was younger! Make sure to place it correctly to avoid any moving or bunching. If you are going to have your cycle every month, make sure to use pads that will make it comfortable and easier on you.
Love them
There is no other brand that I would use besides Genial Day. I was happy to see when they were restocked.
Customer service email
I absolutely love these products and they really help me feel more successful during my cycle. It can be very difficult to find a company that you really enjoy. I hope this company stays around for a long time!
ECO-certified Regular Flow Pads with Anion Strip