Regular price
$62.90 USD
Sale price
$62.90 USD
Unit price
per
Sale
Sold out
Mixed Kit includes:
3 packs of Regular Flow Pads (30 cnt)
2 packs of Heavy flow Pads (18 cnt)
4 packs of Cotton Liners (96 cnt) 
Concerned about your health and safety, but still want to be comfortable, fresh and hygienic? Genial Day Eco-certified pads were designed with YOU in mind - to help alleviate the common problems associated with PMS and vaginal infections. They are the most healthy, safe, absorbent, comfortable and Eco-friendly pads out there! The new anion strip technology with tourmaline allows for fragrance-free odor control. The Genial Day functional Eco-certified pads are also clinically tested for bio-compatibility so they won't cause irritation. Join the period revolution of 1 million women - and detox your period today with Genial Day!
+ pH friendly to skin, toxin-free, fragrance-free, non-chlorine bleached.
+ Yellow ANION Strip with Tourmaline for protection against skin irritation & odor.
+ Pads with air-laid cotton layer and nontoxic, biodegradable, super-absorbent material made in Japan for superior absorbency.
+ Breathable back layer to eliminate heat and humidity.
+ Pads with leakage control channels, 3D side walls to prevent unpleasant accidents.
+ Pads with wings to stabilize the pad.
+ Food grade adhesive strips to stabilize the pad.
+ Individually sealed wrapper for safe carrying in your purse.
This product is not intended to diagnose, treat, cure or prevent any disease.
Share
View full details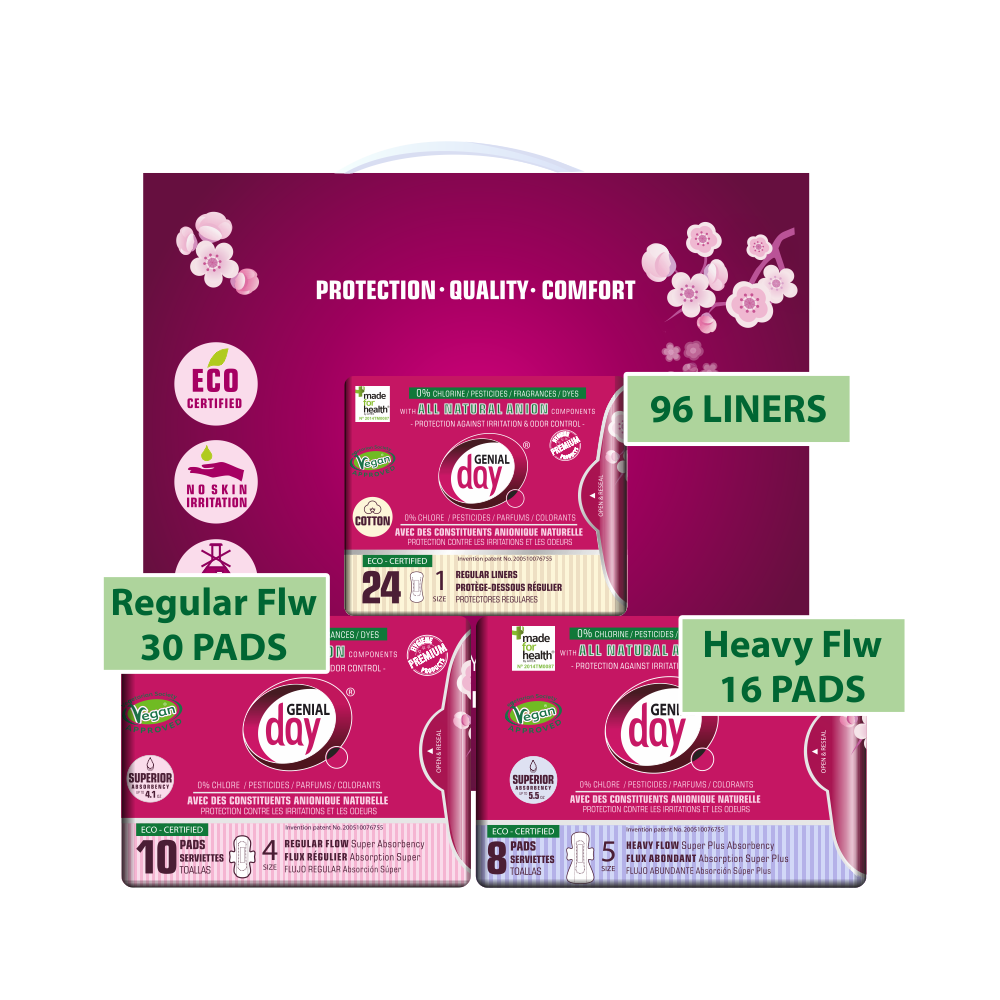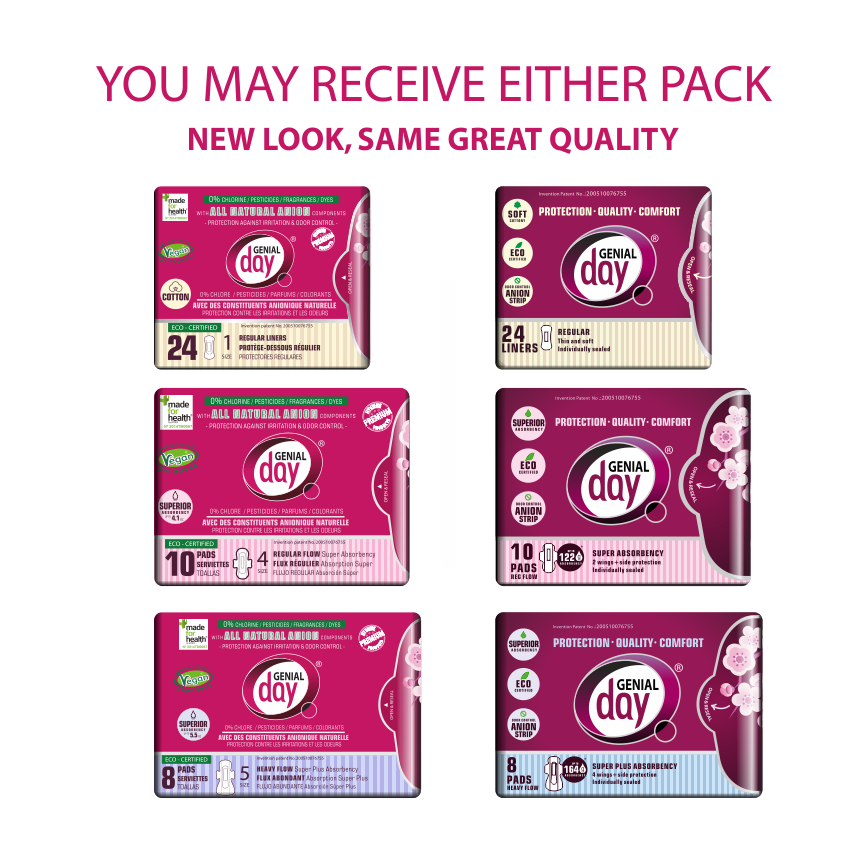 Amazing
Started really loving Genial Day products, after giving them a try. It's natural and I can feel that my skin is looking better than after using other products!
Great kit for me!
These Genial Day pads were AMAZING!!! They were so soft, I forgot I was wearing them. They were naturally fresh-smelling and odor-absorbent. The sample pack of multi-sized pads allowed me to feel confident and protected throughout the day. Will definitely recommend!! 5 Stars.
Amazing kit!
Genial Day Pads were very comfortable and absorbent. They are super soft and naturally fresh-smelling and odor-absorbent. I especially like that they don't contain any chemicals. I felt very confident and fresh all day that I had great protection that I needed. I would definitely recommend this product.
At first they seemed to good to be true
The Genial Day Pads lived up to their comfort and protection promises. They're very thin, but absorbent so I forgot that I was wearing them. They also have wings, which I prefer in my pads, and the wings themselves wrapped around my underwear without causing any bunching. Definitely would recommend them to anyone who is specifically looking for eco-friendly pads.
Great odor control!
I liked most that it has safe materials. I was scared it wouldn't control odor but it totally did! I hope to find these everywhere I go because safety is a priority when it comes to intimate products.