Regular price
$62.90 USD
Sale price
$62.90 USD
Unit price
per
Sale
Sold out
Women love our organic Heavy Flow Pads with FAR-IR Anion Strip because of it's shape and four wings - two in the middle and two in the back. Perfect for overnight to have a good night sleep. 
Concerned about your health and safety, but still want to feel comfortable and fresh? Genial Day Eco-certified pads were designed with YOU in mind - to help alleviate the common problems associated with PMS and vaginal infections. They are the healthiest, safest, most absorbent, comfortable and eco-friendly pads out there! The new anion strip technology with tourmaline allows for fragrance-free odor control which also eliminates toxic chemicals. Genial Day eco-certified pads are also clinically tested for bio-compatibility, so they won't cause irritation. Join the period revolution of 1 million women - and detox your period today with Genial Day!
+ pH friendly to skin, toxin-free, fragrance-free, non-chlorine bleached.
+ "Stay dry" cover sheet: never feel wet again.
+ Yellow ANION Strip with Tourmaline for protection against skin irritation & odor.
+ With air-laid cotton layer and nontoxic, biodegradable, super-absorbent material made in Japan for superior absorbency: absorbs up to 164 g (5.78 OZ), according to the Rothwell method test (ISO 11948-1).
+ Breathable back layer to eliminate heat and humidity.
+ Leakage control channels, wider back and 3D side walls to prevent unpleasant accidents.
+ With 4 wings to stabilize the pad.
+ Food grade adhesive strips to stabilize the pad.
+ Individually sealed wrapper for safe carrying in your purse.
This product is not intended to diagnose, treat, cure or prevent any disease.
Share
View full details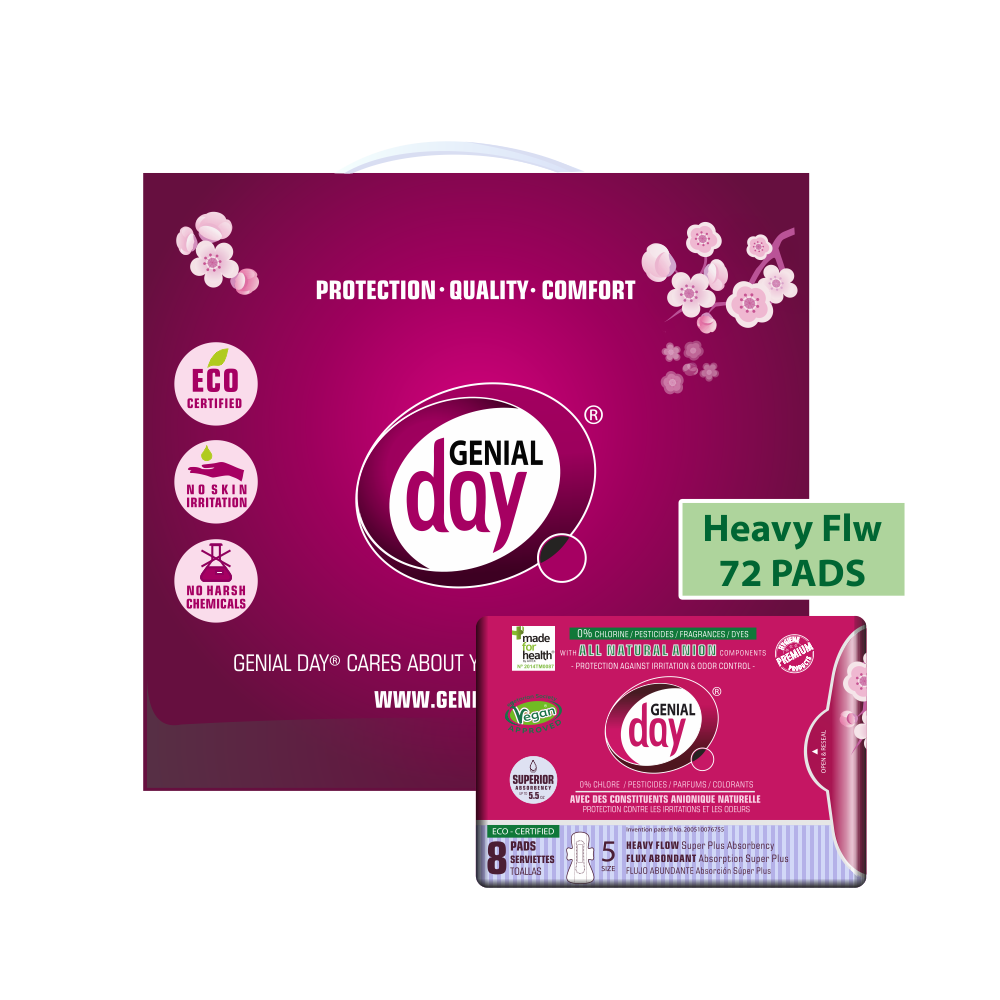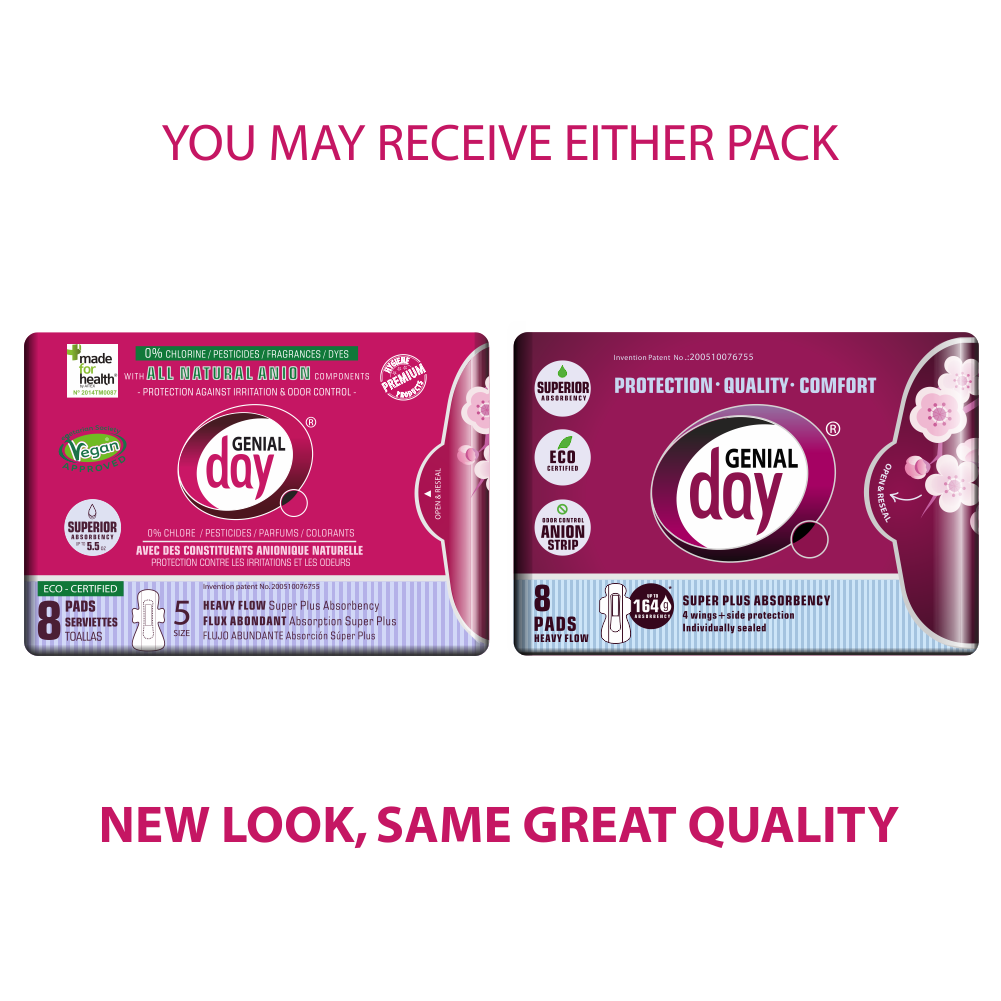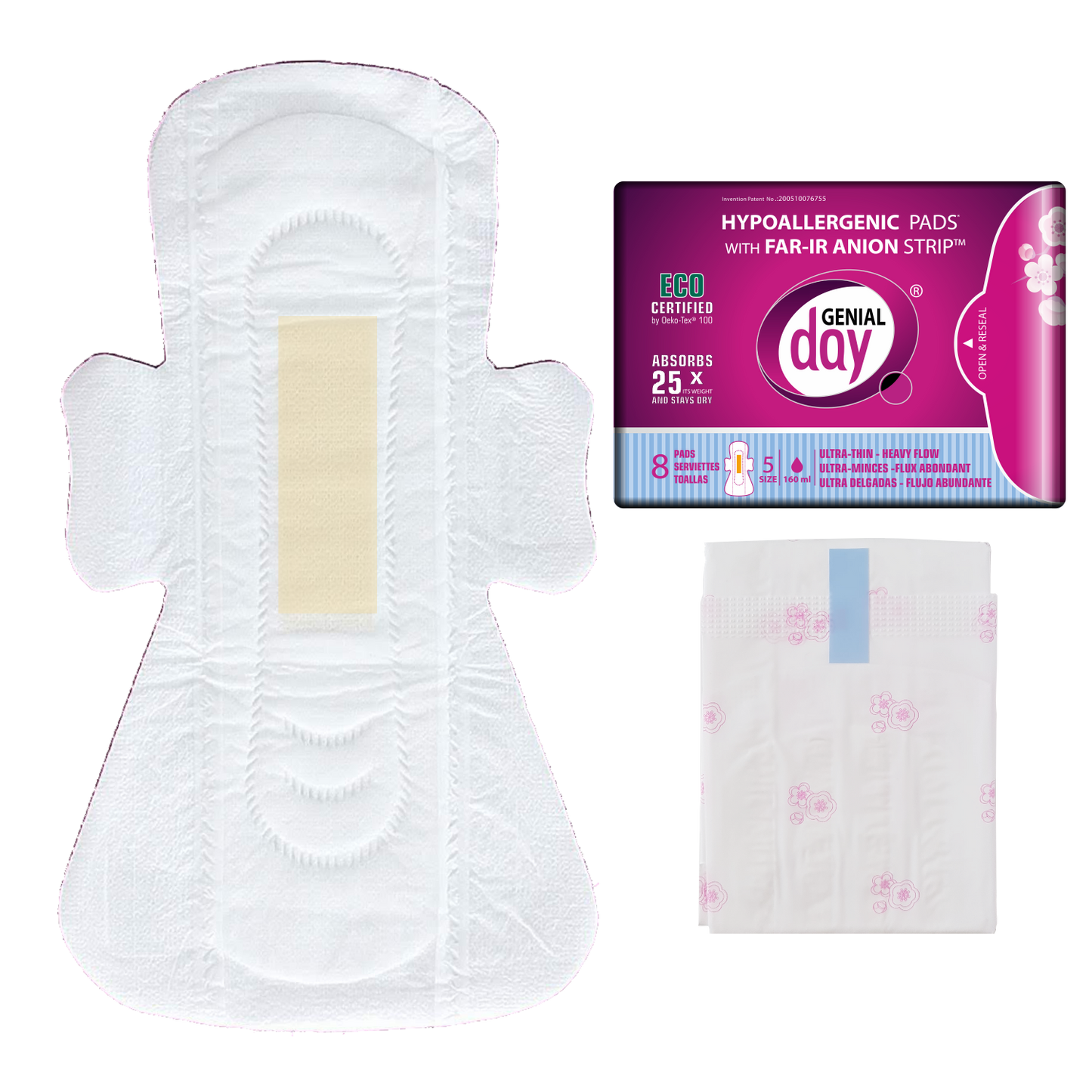 Love it!
Best feminine pads I've ever used. Very comfortable, no leaks, and most importantly I feel safe knowing it's a good clean product with no chemicals.
Amazing product!
Love Genial Eco Friendly pads! Not only are they super absorbent and comfortable but I can feel good about using a product that s good for the environment. This is my new go to pad.
How are these pads so good?
These heavy flow pads are insane! one pad will last me a long time. With these pads I usually don't even have to change my pad during the day! So basically you save up on these pads because of the absorbency. But don't think oh high absobency so the pads will be wet. NO! THEY STAY DRY ALL THE TIME! They are amazing. The BEST PADS!
The absorbency is AMAZING!
Love, love, love these pads! Design/technology and the effectiveness are both great. I don't recall any leaks occurring while wearing these. I hadn't heard of this brand before I saw it on Social Nature, but I'm so glad I found it. It feels great to find a company that sells eco-friendly products that actually work well. I've already recommended this brand to a friend and I plan on buying more for myself
No toxins!
Safe ingredients is the key. I like that they are comfortable and provide good protection, while also do not leave odor. There are many options that can be potentially harful relative to health and I feel mpre at ease using one that is safe.